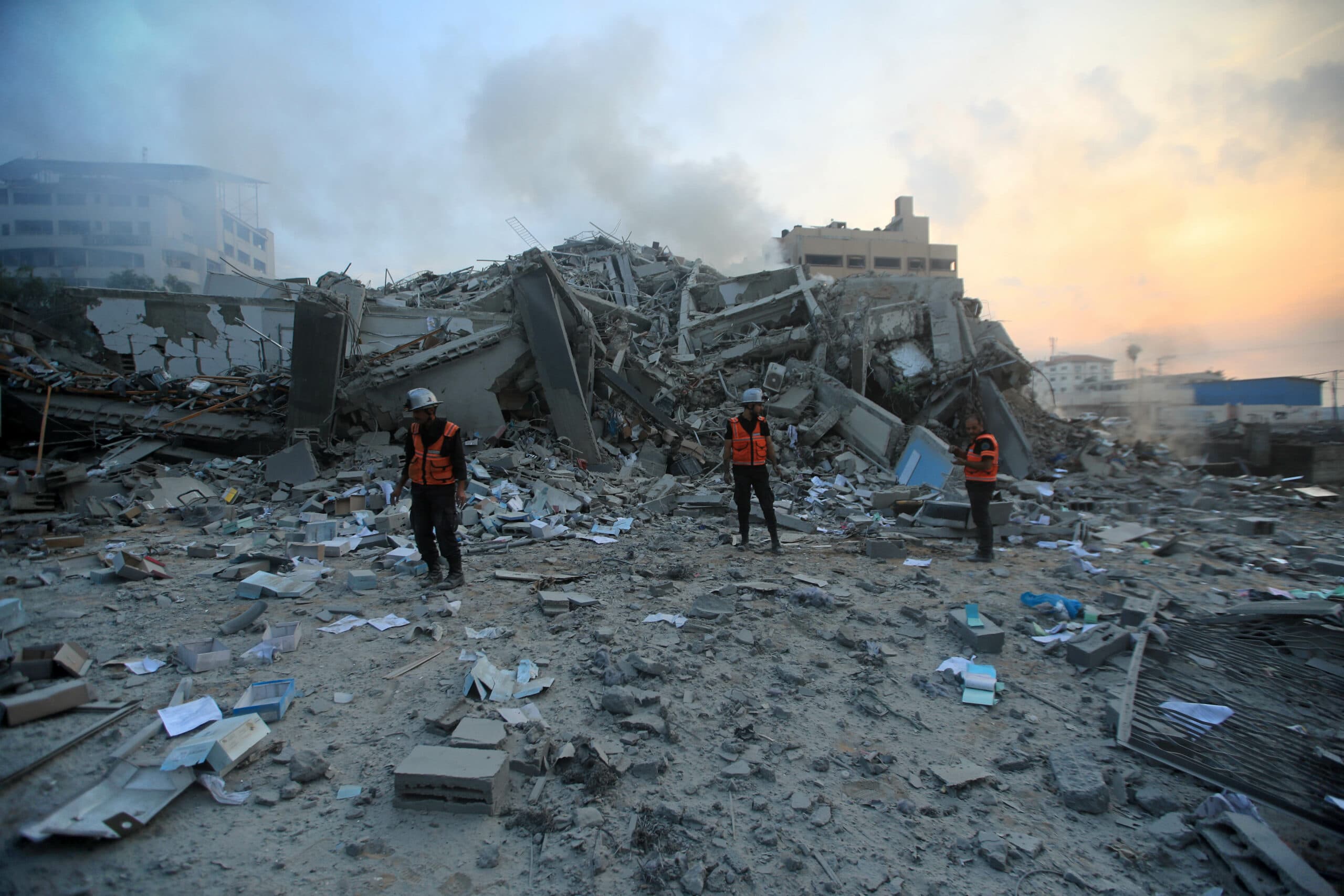 Israel-Palestine: News
2023 Hostilities and Escalating Violence in the oPt | Account of Events
17 November 2023
This account of events is based on available and verified facts at the time of writing. The page is updated regularly to reflect unfolding developments on the ground. The last update took place on 17 November 2023.
A detailed legal brief on the 2023 hostilities in Israel and Gaza can be found here.
Background: The situation in Israel-Palestine prior to the 2023 hostilities
Casualties, hostages, and destruction of civilian infrastructure
Attacks by Hamas-led armed groups from Gaza
On 7 October 2023, from the early morning hours, Hamas and other armed groups from Gaza carried out an attack against Israel, firing barrages of rockets towards the southern and central part of the country. The armed groups crossed the Gaza border fence into Israeli territory by land, air, and sea, where they injured and killed Israeli forces and Israeli and foreign civilians, including more than 260 attendees of a music festival near Re'im and residents of kibbutzim Kfar Azza and Be'eri. Over the course of three days, there were gun battles and hostage situations in southern Israeli towns, with the Israeli army only regaining control on 9 October. Indiscriminate rocket attacks on Israeli cities, including Ben Gurion Airport near Lod (formerly Lydda), continued in the weeks thereafter.
Overall, more than 1,200 Israeli and foreign nationals in Israel have been killed, and over 5,400 more injured; more than 200 are being held hostage in Gaza, amongst them babies, children, and the elderly (figures reported by the Israeli authorities).
According to reports, first responders encountered "horrifying scenes, including the slaughter of elderly people and finding bloody rooms crowded with massacred civilians". An Israeli army spokesperson called 7 October "by far the worst day in Israeli history"; United States (US) President Joe Biden spoke of "the deadliest day for Jews since the Holocaust". The UN Office for the Coordination of Humanitarian Affairs (OCHA) documented that "[t]he reported fatality toll is over threefold the cumulative number of Israelis killed since OCHA began recording casualties in 2005 (nearly 400)". An estimated 1,500 members of the armed groups have reportedly been killed.
On 20 October, two of the hostages, US citizens aged 59 and 17 (mother and daughter), were released, reportedly after mediation by Qatar, followed by two elderly women aged 79 and 85 on 23 October. On 30 October, it was reported that the Israeli military freed an Israeli soldier who was being held by Hamas during a ground raid. According to the Israeli authorities, around 200,000 Israelis have been evacuated from the southern and northern part of the country due to rocket fire. On 14 November, the Israeli military announced that one of the hostages, a 19-year-old soldier, had died, following the release of a video, reportedly by Hamas, depicting her making a statement and later her lifeless body, bearing signs of physical injury; her body was reportedly recovered by the Israeli military on 17 November. Also on 14 November, the Israeli police reportedly opened an investigation into acts of sexual violence allegedly committed by Hamas forces during the 7 October attacks; there had already been numerous reports about rape and sexual assault from witnesses and survivors, first responders, and Israeli officials, including an instance of gang rape and murder. On 16 November, the Israeli military reportedly found the body of a 65-year-old hostage – a cancer patient whose husband was killed in the 7 October attacks – in Gaza City.
Ghazi Hamad, a senior Hamas official and member of the organization's politbureau, reportedly said in a TV interview that "Israel is a country that has no place on our land", and that the 7 October attack "is just the first time, and there will be a second, a third, a fourth…"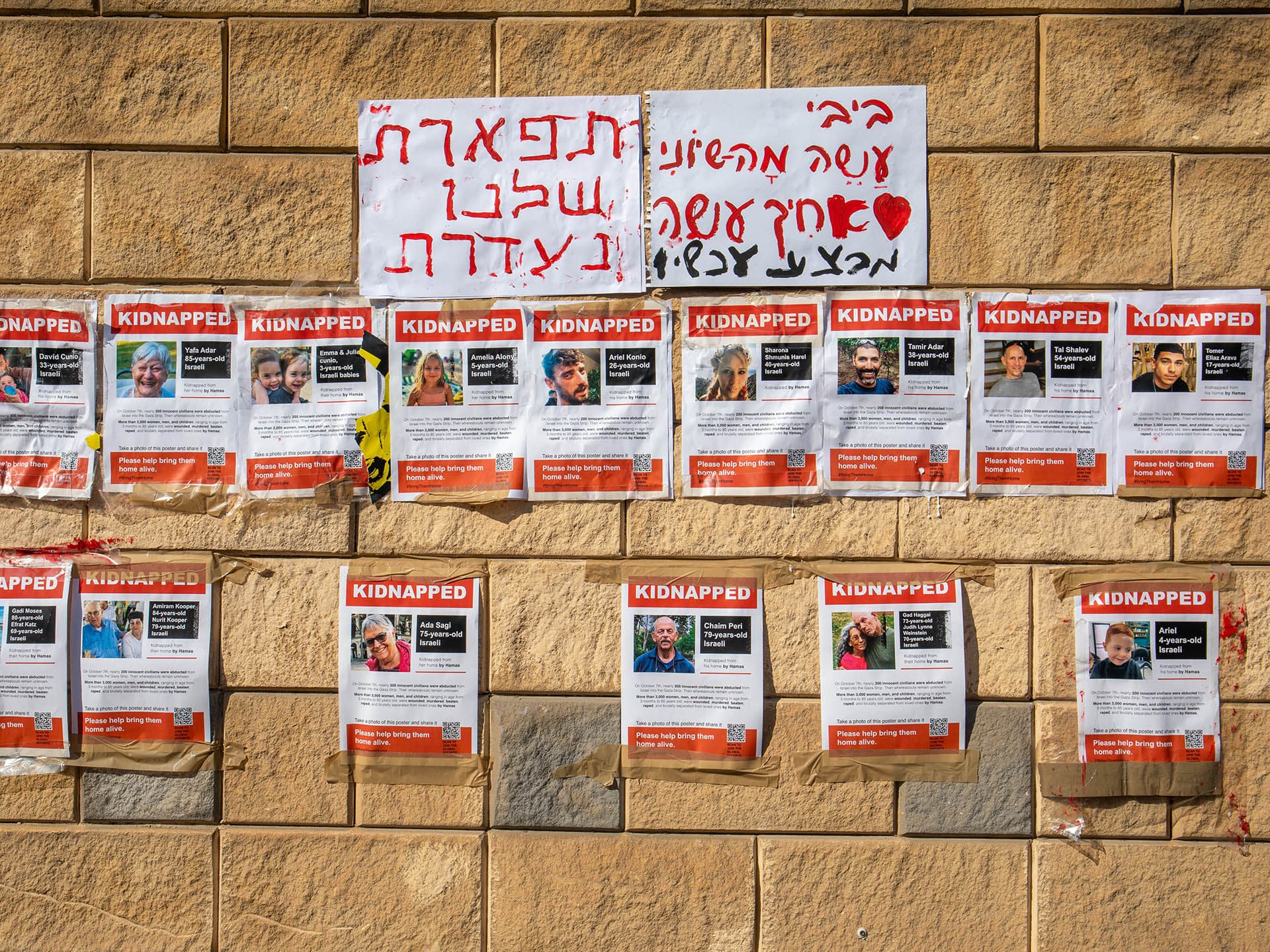 Unprecedented Israeli bombardment of Gaza
On the day of the initial attack, shortly before 11 am local time, Israel launched a large-scale counteroffensive on the Gaza Strip, with Prime Minister Netanyahu proclaiming that the country is "at war"; the government declared a state of war the following day. Ever since, the Israeli military has been carrying out heavy, near-constant, "unprecedented" bombardment of Gaza. Over 11,000 Palestinians in Gaza have been killed and more than 27,000 others injured, according to reports by the Gaza Ministry of Health.
The Israeli military has asserted that it is targeting the political and military leadership of Hamas, with a military spokesperson claiming on 8 October that "Israeli intelligence indicates that Hamas are hiding among Gazan civilians, inside Gazan homes and schools, hospitals and mosques". Israel has hit high-rise buildings, including those housing apartments, the Rimal neighbourhood in Gaza City, the Jabalia and Shati refugee camps, and in close proximity to the Rafah crossing with neighbouring Egypt, amongst others, wreaking devastation; according to OCHA, "[e]ntire neighbourhoods have been destroyed".
There have also been reports about damage to hospitals, water and sanitation facilities, UNRWA and other UN buildings, telecommunications lines, schools and educational facilities, mosques, and churches, as well as fatal attacks on journalists, healthcare workers and ambulances, and humanitarian workers. A situation report from UNRWA, dated 15 October, observed that "[t]he number of killed is increasing. There are not enough body-bags for the dead in Gaza". Around 100 persons were reportedly buried in a mass grave in Rafah "due to the lack of refrigerated space to store them until recognition procedures are conducted", with OCHA raising "environmental and human indignity concerns related to the decomposition of the bodies". It has also been reported that a hospital in Deir al-Balah has turned to using ice cream trucks as "makeshift morgues to supplement the overflowing hospital mortuaries".
On 10 October, an Israeli military spokesperson proclaimed that in his view the parliament and civilian ministries in Gaza constitute legitimate targets "if there's a gunman firing rockets from there" and indicated a lesser "level of fidelity" as regards warnings given to civilians prior to an attack. On the same day, the military announced that "the emphasis is on damage, not precision" in the bombardment. Hamas has threatened to start executing hostages in retaliation for attacks resulting in civilian deaths that are carried out without warning. On 12 October, Human Rights Watch (HRW) reported, and Amnesty International later reported as well, that the Israeli military has used white phosphorus, an incendiary weapon, prompting grave concerns about harm to civilians. The Israeli military has denied this claim. Dr. Ghassan Abu Sitta, a British-Palestinian volunteer surgeon at Al-Shifa Hospital, has testified treating patients with burns that he deemed characteristic of exposure to white phosphorus.
Israeli President Isaac Herzog suggested in relation to the 7 October attacks that "[i]t's an entire nation out there that is responsible. It's not true, this rhetoric about civilians … not aware, not involved, it's absolutely not true. They could have risen up, they could have fought against that evil regime which took over Gaza in a coup d'état". On 13 October, the Israeli army announced that it has conducted "localized raids within Gaza". On the same day, Hamas reportedly fired a long-range missile towards the Galilee. On 14 October, the Israeli military said that it is getting ready for a new phase, including "significant ground operations". On 17 October, Israel hit an UNRWA school in al-Maghazi refugee camp, killing at least six people, injuring dozens more, including UNRWA staff, and severely damaging the building. According to UNRWA, around 4,000 Gazans had been sheltering there, who "had and still have nowhere else to go"; UNRWA "provides the coordinates of its facilities to relevant parties on a daily basis".
On 19 October, the Israeli military struck the Saint Porphyrius Greek Orthodox Church, where hundreds had reportedly been sheltering, with 16 killed according to the Gaza Health Ministry. In a statement dated 19 October, the Orthodox Patriarchate of Jerusalem condemned the airstrike, stressing that "targeting churches and their institutions, along with the shelters they provide to protect innocent citizens … constitutes a war crime that cannot be ignored". On 20 October, Defence Minister Gallant announced that Israel's military campaign in Gaza would culminate in "the creation of a new security regime in the Gaza Strip, the removal of Israel's responsibility for life in the Strip and the creation of a new security reality for the citizens of Israel". On 21 October, the Israeli military said that it would intensify its airstrikes on Gaza going forward. On 22 October, an Israeli soldier was reportedly killed during a raid in Gaza. On 25 October, it was reported that Hamas fired long-range rockets towards Haifa in Israel's north and Eilat in the south. Hamas officials reportedly claimed that they would release no more hostages until there is a ceasefire.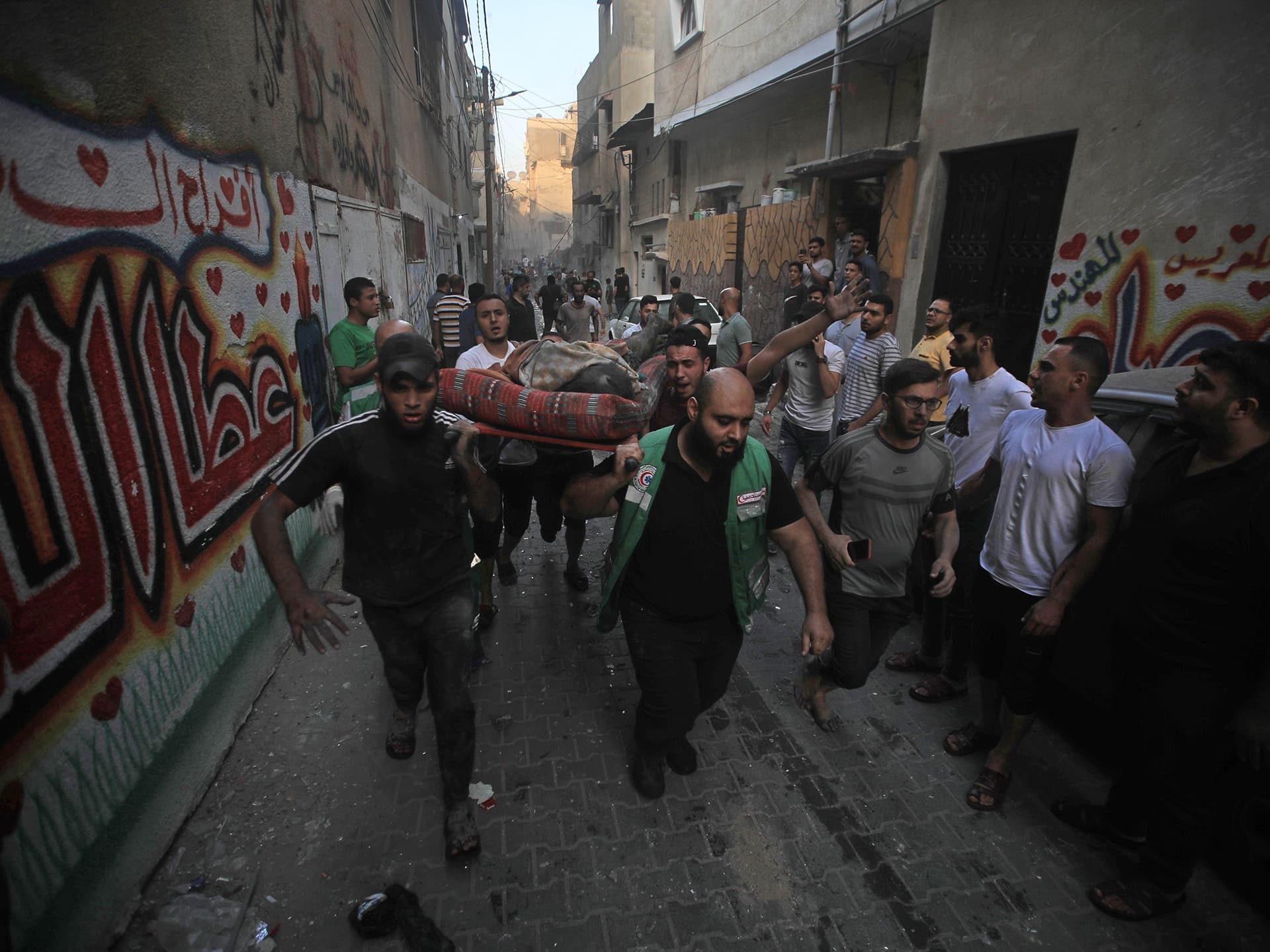 On 27 October, "landlines, cellular and internet services" were cut off across the Gaza Strip following a barrage of heavy Israeli airstrikes, with the main telecommunications tower reportedly having been hit. Bombardment and ground raids by the Israeli military into Gaza intensified despite repeated calls for a humanitarian ceasefire, with Chief of Staff Herzl Halevi reportedly declaring on 28 October that "the objectives of the war require a ground operation". On the same day, Israeli Prime Minister Netanyahu gave a public address confirming "the widening of the ground invasion" as part of a new phase in the hostilities, which he referred to as Israel's "second war of independence". Netanyahu also proclaimed: "You must remember what Amalek has done to you, says our Holy Bible, and we do remember, and we are fighting", invoking reference to the Amalekites, a biblical archenemy of the Israelites, whom they were told to destroy and whose memory they were commanded to eradicate. Starting on 29 October, communications in Gaza were reportedly "gradually restored", apparently following US pressure.
On 30 October, Netanyahu emphatically rejected ever more frequent calls for a ceasefire. The following day, the Israeli military again struck the densely populated Jabalia refugee camp, "reportedly destroying an entire quarter with 30 residential buildings", according to OCHA, and with dozens reported killed; further strikes on Jabalia took place on 1 November. Also on 1 November, telecommunications and internet services in Gaza were again interrupted over the span of several hours. The High Representative of the European Union (EU) for Foreign Affairs and Security Policy, Josep Borrell Fontelles, said that building on the EU position that "Israel has the right to defend itself in line with international humanitarian law and ensuring the protection of all civilians", he is "appalled by the high number of casualties following the bombing by Israel of the Jabalia refugee camp". The Director of the UNRWA Representative Office in New York renewed the organization's call for "an immediate humanitarian ceasefire" before the UN General Assembly's Fourth Committee. The Israeli military announced that soldiers have reached "the gates of Gaza City".
On 2 November, several UN experts issued a statement warning that "the Palestinian people are at grave risk of genocide" and affirming that "[t]he Israeli airstrike on a residential complex in the Jabalia refugee camp is a brazen violation of international law – and a war crime", amongst other points. On the same day, the Israeli military hit four UNRWA facilities sheltering almost 20,000 people, leaving at least 23 dead and dozens more injured. UNRWA released a video commemorating the 72 staff members who have been killed between 7 October and 2 November, which "marks the largest loss of life of United Nations aid workers in such a short span of time". On 3 November, Israel reportedly struck a convoy of ambulances en route to the Rafah crossing in close proximity to Al-Shifa Hospital in Gaza City, the point of origin, killing at least 13 persons and injuring 26 others. The Israeli military claimed to have targeted "a Hamas terrorist cell"; it was reported that the Al-Quds Hospital in Gaza City and the Indonesian Hospital in Beit Lahia were hit as well. The World Health Organization (WHO) issued a statement emphasizing that "[a]ttacks on health care, including the targeting of hospitals and restricting the delivery of essential aid such as medical supplies, fuel, and water, may amount to violations of International Humanitarian Law". On 4 November, the Israeli military reportedly struck the entrances of Al-Quds Hospital – serving as shelter to around 14,000 displaced persons – and Nasser Children's Hospital, both in Gaza City.
A doctor working for Médecins Sans Frontières (MSF) told reporters that medical staff have come up with the category "wounded child no surviving family" for the many orphaned children in Gaza. On 5 November, Amihai Eliyahu, Israel's Heritage Minister, suggested in a radio interview that dropping a nuclear bomb on Gaza is an option, later seemingly walking back the remark and claiming on social media that it was "metaphorical"; he was suspended indefinitely from participation in cabinet meetings. US Secretary of State Antony Blinken met with PA President Mahmoud Abbas in Ramallah, who expressed the PA's willingness to "assume … responsibilities within the framework of a comprehensive political solution that includes all of the West Bank, including East Jerusalem, and the Gaza Strip". Hamas reportedly said that over 60 hostages are unaccounted for due to Israeli airstrikes.
The Israeli military announced on 5 November that its forces have completed a division of the Gaza Strip into a northern and a southern part and encircled Gaza City in the north. On the same day, an Inter-Agency Standing Committee representing various UN agencies and humanitarian organizations released a statement expressing "shock and horror at the spiralling numbers of lives lost and torn apart", both in Israel during the initial attacks by armed groups and in the Gaza Strip, where the "entire population is besieged and under attack, denied access to the essentials for survival, bombed in their homes, shelters, hospitals and places of worship" and 88 UNRWA staff have been killed, marking "the highest number of United Nations fatalities ever recorded in a single conflict". It ends: "We need an immediate humanitarian ceasefire. It's been 30 days. Enough is enough. This must stop now". On 11 November, the building of the United Nations Development Programme (UNDP) in Gaza City was reportedly hit. On 12 November, the Israeli navy struck and caused severe damage to an UNRWA guesthouse in Rafah south of Gaza.
The Israeli army continued its advance on Gaza City, with soldiers reportedly moving into Al-Rantisi Children's Hospital; according to OCHA, as of 13 November all hospitals in the north of Gaza except one – Al-Ahli Hospital, which is under severe strain – have ceased operations due to a lack of electricity and essential supplies, as well as airstrikes and fighting nearby. Israeli forces were reportedly closing in on Gaza's largest hospital, Al-Shifa; on 12 November, WHO Director-General Tedros Adhanom Ghebreyesus wrote on X (formerly Twitter) that the hospital has been without water and electricity for three days. OCHA said on 13 November that since 11 November 32 patients at Al-Shifa Hospital have reportedly died, among them three premature babies; amidst the power outage and lack of oxygen, other newborns were moved from incubators in the neonatal care unit, "wrapped in foil[,] and placed next to hot water in a desperate bid to keep them alive". The Gaza Ministry of Health said that on 14 November 40 patients at Al-Shifa Hospital died. On the same day, a spokesperson for the Ministry of Health reported that Palestinians inside Al-Shifa Hospital started digging a mass grave; over 100 persons were reportedly buried there, according to the Ministry. There have been reports of stray dogs feeding on unburied bodies. Heavy fighting was also reported around Al-Quds Hospital. Overall, hundreds of thousands of people reportedly remained in the north of Gaza amidst intensifying hostilities.
Explosion at Al-Ahli Hospital, 17 October 2023
Israel imposes a complete siege on Gaza, after 16 years of blockade
On 9 October, Israeli Defence Minister Yoav Gallant ordered a "complete siege" of Gaza, specifying "no electricity, no food, no water, no fuel, everything is closed". He claimed that Israel is "fighting human animals and we are acting accordingly". On 7 October, Israel had already cut off electricity and fuel. On 11 October, Prime Minister Netanyahu, Defence Minister Yoav Gallant, and Netanyahu rival Benny Gantz – the leader of the opposition Kahol Lavan party who is also a former Chief of Staff of the Israeli military and Defence Minister – formed an emergency war cabinet, with Gallant vowing to "wipe [Hamas] off the face of the Earth". Israel mobilized around 360,000 reservists and amassed around 100,000 troops near Gaza, raising the spectre of a ground invasion. On 12 October, the Israeli military's Chief of Staff, Herzl Halevi, pledged that "Gaza will never look the same". On the same day, Israel Katz, Israel's Energy Minister, threatened that no "electrical switch will be turned on, no water hydrant will be opened and no fuel truck will enter" until the hostages are released, a position reportedly shared by Defence Minister Gallant. Hamas has asserted on several occasions that Israel's attacks on Gaza have killed some of the hostages.
On 14 October, UNRWA warned that "[c]lean water is running out in the Gaza Strip, after its water plant and public water networks stopped working"; Gaza residents are reportedly forced to consume "brackish water from agricultural wells". Humanitarian organizations have raised alarm that the lack of clean water for drinking and personal hygiene severely increases the risk of infectious disease outbreaks, such as cholera. According to the UN, Gazans only have around three litres of water at their disposal, while the recommended minimum is between 50 and 100 litres; for purposes of illustration, it is estimated that an adult in the United Kingdom (UK) uses around 142 litres of water in a day. On 22 October, UNRWA Commissioner-General Philippe Lazzarini warned that fuel in Gaza will run out in three days, which would mean "no water, no functioning hospitals and bakeries" as well as "no humanitarian assistance". Due to the shortage of water, fuel, electricity, and medical supplies, doctors in Gaza have been forced to operate on patients without sufficient anaesthetics, and to use "clothes for bandages, vinegar for antiseptic, sewing needles for surgical ones", according to reports. This is only a small part of the picture: Gaza's entire health care system is "on the brink of collapse". Furthermore, there are growing concerns about environmental hazards and the spread of diseases due to the breakdown of sewage pumps, water wells, as well as desalination and wastewater treatment plants.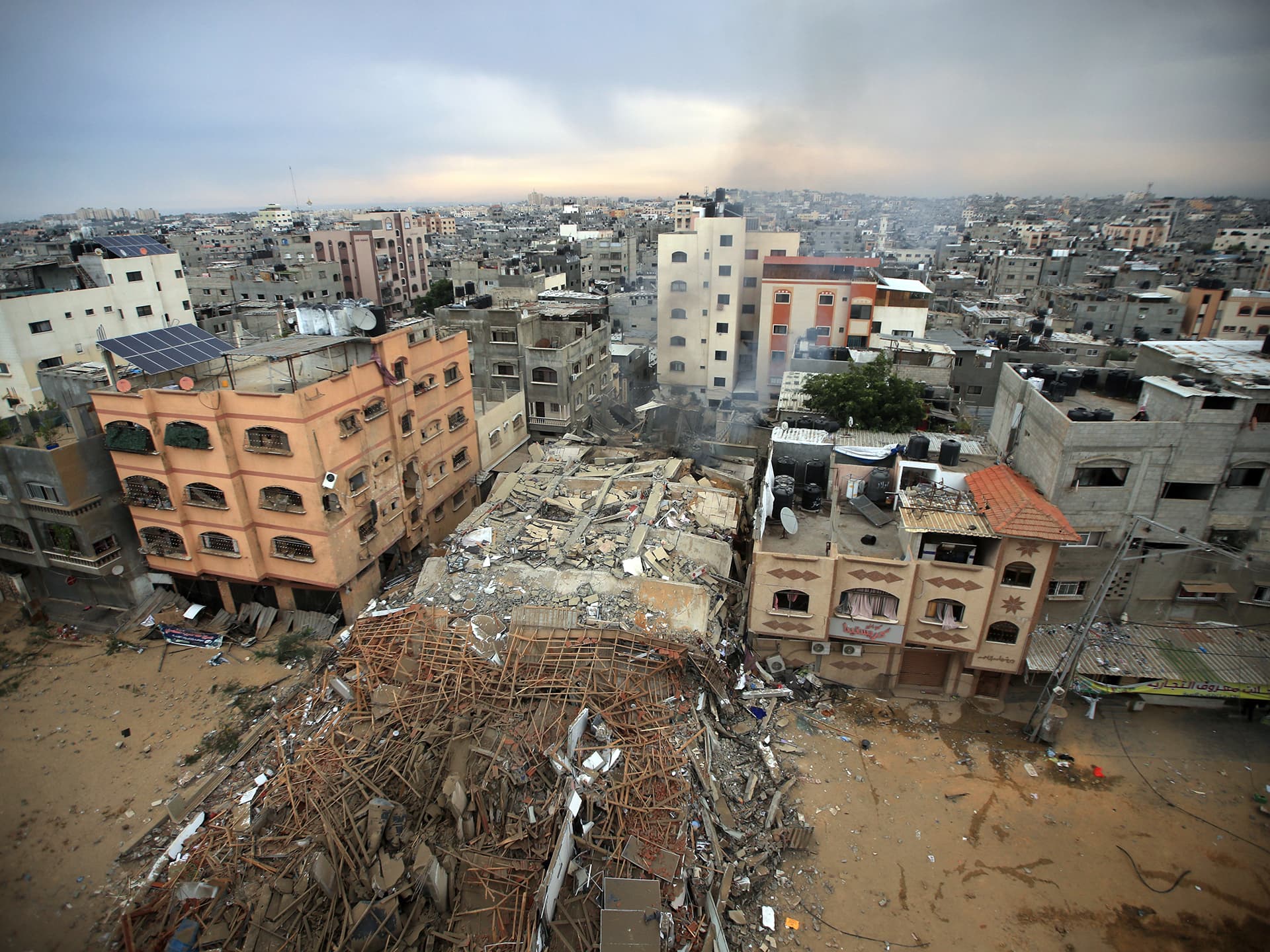 Displacement and unprecedented humanitarian catastrophe
The destruction of homes and infrastructure, shortage of water, food, electricity, and fuel, as well as the threat of near-constant heavy bombardment has led to the displacement of around 1.6 million Palestinians in Gaza, many of whom are sheltering in UNRWA facilities. On 10 October, Egypt closed the Rafah crossing to Gaza residents for an indefinite time period; the Israeli military had suggested previously that Gazans should leave through there to escape the bombardment, only to reverse course. From 8 October until 21 October, the Rafah crossing remained fully closed (with the Egyptian Foreign Ministry denying a closure and clarifying that the crossing was damaged by Israeli airstrikes). On 13 October, the Israeli military reportedly directed the more than 1 million residents of northern Gaza to move south, prompting concerns of an imminent land offensive and drawing international outrage. Gaza's biggest hospital Al-Shifa is located in this area, in Gaza City. UN Secretary-General Antonio Guterres warned that "[m]oving more than one million people across a densely populated warzone … is extremely dangerous" and may not be "possible", urging the Israeli authorities to "reconsider", while numerous organizations, including the WHO, Amnesty International, and the UN International Children's Fund (UNICEF), called for the order to be rescinded with immediate effect. Many Palestinians fear a second Nakba, a majority of Gaza residents being refugees or descendants of refugees who were displaced during the 1948 war that led to the establishment of the State of Israel and concomitant mass exodus of over 700,000 Palestinians from their homes across Mandatory Palestine. One resident interviewed by Amnesty International remarked: "We went to sleep in 2023 and woke up in 1948".
UNRWA relocated its foreign staff and central operations centre to the south of Gaza, urging the Israeli military "to protect all civilians in UNRWA shelters including schools". A spokesperson for the WHO said that moving critically ill patients from hospitals in north Gaza "is a death sentence" and that "[a]sking health workers to do so is beyond cruel". On the same day, MSF reported being given two hours to "evacuate" Al-Awda Hospital in north Gaza, which was then postponed until 6 am local time on 14 October. Hamas reportedly instructed Gazans to "remain steadfast in [their] homes and to stand firm in the face of this disgusting psychological war waged by the occupation". On 12 October, Egyptian President Abdel Fatah al-Sisi had reportedly said that Palestinians in Gaza should "stay steadfast and remain on their land". Gazans are seemingly left with two options: mass displacement, which for many of them calls to mind painful memories of the Nakba, or staying in their homes under bombardment.
On 12 October, the International Committee of the Red Cross (ICRC) warned that "[w]ithout electricity, hospitals risk turning into morgues". UNRWA Commissioner-General Philippe Lazzarini cautioned in similarly stark terms that Gaza is "becoming a hell hole and is on the brink of collapse". On 14 October, the Israeli military announced that it would allegedly allow Gazans to safely travel southwards until 4 pm local time; thousands reportedly made their way south. There are indications that fleeing civilians may have come under attack. On 16 October, the EU announced that it is setting up an air bridge to transfer humanitarian supplies to Gaza via Egypt. King Abdullah II of Jordan indicated that neither his country nor Egypt are willing to host refugees from Gaza. On 18 October, the Israeli military published a call for the residents of northern Gaza "to evacuate towards the area of Al-Mawasi, south of Wadi Gaza", where allegedly "international humanitarian aid will be provided as needed". On 17 October, OCHA documented that fatalities from recent Israeli airstrikes have "included people moving southward in compliance with the Israeli military order to evacuate the northern Gaza Strip"; it was also reported that some of those who fled to the south of Gaza have been returning north because of ongoing airstrikes also in the south and lack of shelter. Hundreds of displaced Palestinians who wound up in Khan Younis in the south of Gaza are reportedly forced to live in tents provided by the UN, an image which for many is yet another painful reminder of the Nakba. A spokesperson for UNRWA stated that "[n]owhere today in Gaza is safe". At a peace summit in Cairo, King Abdullah II of Jordan warned that "the forced or internal displacement of Palestinians would be a war crime". PA President Mahmoud Abbas declared: "Ladies and gentlemen, we will not leave, we will not leave, we will not leave, and we will remain on our land".
On 21 October, an aid convoy consisting of 20 trucks entered via the Rafah crossing "for the first time since 8 October"; according to the Associated Press, "[m]ore than 200 trucks carrying 3,000 tons of aid have been waiting nearby for days". The trucks carried more than 44,000 bottles of drinking water, reportedly sufficient for 22,000 people for one day, "60 metric tonnes of emergency food" provided by the World Food Programme (WFP), as well as some medical supplies, for a total of (then) around 1.4 million displaced persons. Martin Griffiths, UN Under-Secretary-General for Humanitarian Affairs and Emergency Relief Coordinator, expressed the hope that "this delivery will be the start of a sustainable effort to provide essential supplies – including food, water, medicine and fuel – to the people of Gaza" who "have endured decades of suffering". UN Secretary-General Guterres called for "a commitment for much, much more – a continuous delivery of aid to Gaza at the scale that is needed". One aid worker quoted in The Guardian said that "what's being delivered today is barely a drop in the ocean. Before this crisis began, around 500 aid trucks would normally cross the border every day providing a vital lifeline to millions of Gazans who were already facing a humanitarian crisis". Also on 21 October, Israel reportedly doubled down on its relocation directives for the residents of northern Gaza; according to Politico, the military dropped leaflets in the area indicating that "[a]nyone who chooses not to evacuate from the North of the Gaza Strip to the South of the Gaza Strip may be identified as a partner in a terrorist organization".
On 22 October, a second aid convoy consisting of 14 trucks reportedly passed through the Rafah crossing into Gaza. There were reports about a third convoy on 23 October. On 27 October, it was reported that a first medical team comprised of international specialists was allowed to enter Gaza, alongside 10 trucks with aid. The afternoon of 28 October, while Gaza was under communications blackout, the Israeli military published an announcement on X (formerly Twitter) in English, calling upon the residents of north Gaza "to temporarily relocate south", claiming that "[m]oving back to northern Gaza will be possible once the intense hostilities end" and that "your window to act is closing". According to the Palestinian Red Crescent, on 29 October the military requested that Al-Quds Hospital in Gaza be "immediately evacuate[d]", prompting WHO Director-General Tedros Adhanom Ghebreyesus to warn that "it's impossible to evacuate hospitals full of patients without endangering their lives". OCHA reported as well that "[a]ll 13 hospitals still operational in Gaza city and northern Gaza have received repeated evacuation orders in recent days", and that the Israeli military has reportedly struck the areas around Al-Quds and Al-Shifa Hospitals in Gaza City, as well as the Indonesian Hospital in Beit Lahia. A document drawn up by the Israeli Ministry of Intelligence reportedly proposes relocating residents of Gaza to the Sinai Peninsula in Egypt.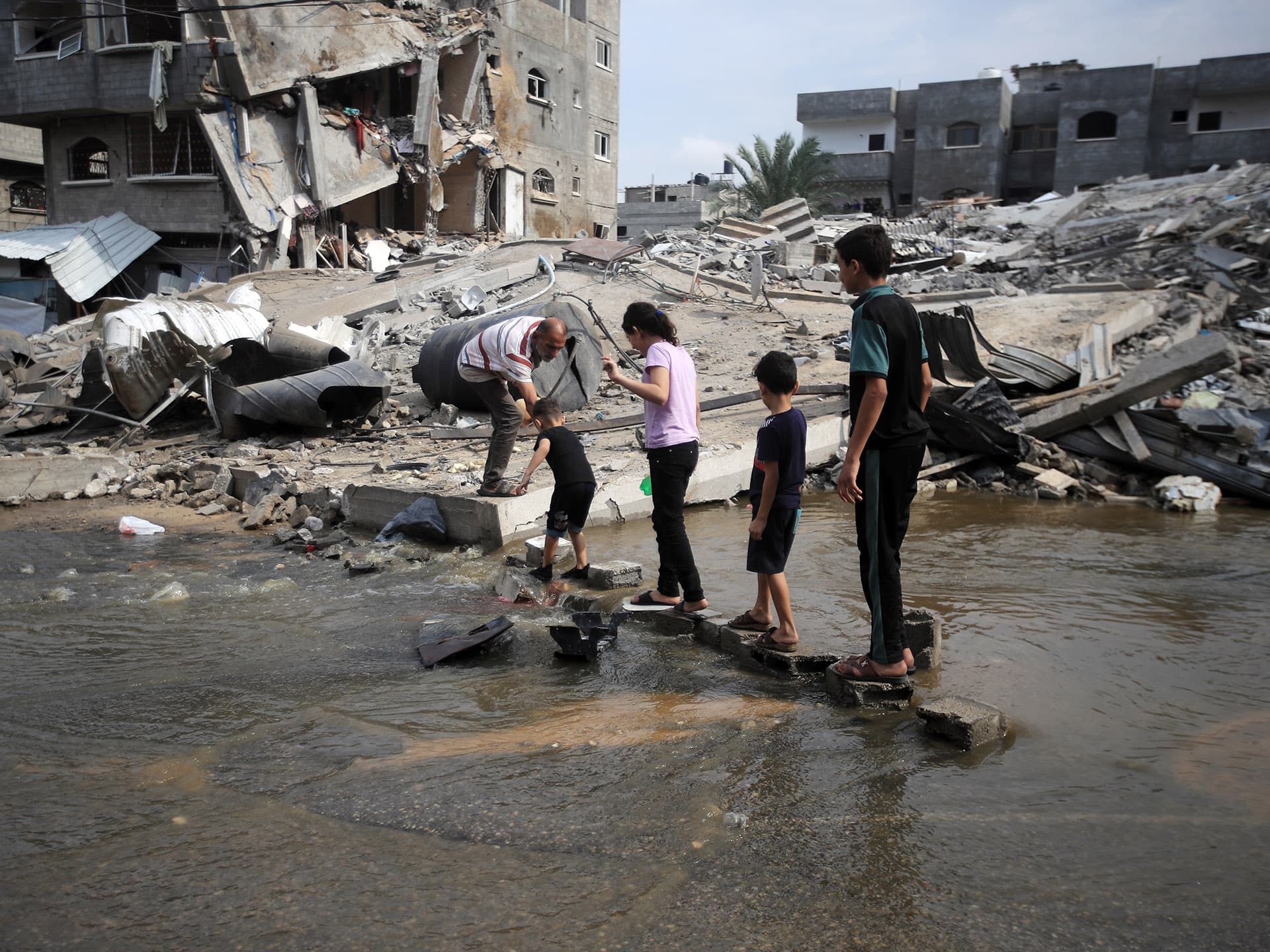 On 1 November, more than 300 foreign passport holders and dozens of injured and sick persons were allowed to cross into Egypt via the Rafah crossing. On the same day, the Turkish-Palestinian Friendship Hospital, the principal hospital in Gaza that offers cancer treatment, ceased operations reportedly after running out of fuel, according to Gazan health officials. An analysis conducted by the British Broadcasting Corporation (BBC) corroborates that on at least three occasions, Israeli airstrikes hit in close proximity to "vaguely defined areas" that the military had directed Gaza residents to move to for their safety.
On 2 November, WHO Director-General Tedros Adhanom Ghebreyesus published a video on X (formerly Twitter) describing the situation in Gaza. Observing that thousands have been killed since the start of the hostilities, he goes on to say: "It's too late to help the dead now. But we can help the living. We can help those who live every moment in fear. We can help injured civilians. We can help the almost 200 women who are expected to deliver babies every day. We can help children and older people. We can help those with life-threatening diseases who need urgent medical care. The ultimate solution is one thing we can't provide: peace".
On 3 November, the WHO said that "14 hospitals and 45 primary health care centres [in Gaza are] closed", with devastating consequences for patients, in particular babies, children, and women, who are forced "to give birth in shelters, in their homes, in the streets amid rubble, or in overwhelmed healthcare facilities, where sanitation is worsening, and the risk of infection and medical complications is on the rise". It has been reported that doctors perform emergency C-sections without anaesthetics; according to Al Jazeera Arabic, there have also been instances of women having to undergo hysterectomies to save their lives. On 5 November, telecommunications and internet services were reportedly cut again in Gaza. On 9 November, a WFP official warned that the entire population of Gaza is food insecure and faces severe risks of malnutrition. Strikes hitting bakeries and fishing boats have also been reported, threatening to further exacerbate food shortages. Attacks on and damage to solar panels, especially around Gaza City, have reportedly cut off "one of the remaining sources of energy for hospitals and water and food production".
On 7 November, the ICRC issued a statement condemning an attack on a humanitarian convoy – including two ICRC vehicles – en route to hospitals in Gaza City; the convoy eventually managed to reach Al-Shifa Hospital and dropped off medical supplies there. The head of the ICRC delegation in Gaza said that "[t]hese are not the conditions under which humanitarian personnel can work". On 8 November, with the support of UNRWA, a WHO convoy reportedly delivered emergency medical supplies to Al-Shifa Hospital, marking "only the second delivery of lifesaving supplies to the hospital since the escalation of hostilities and the total siege of Gaza began". On 10 November, around a dozen children suffering from cancer and blood diseases were evacuated through the Rafah crossing with Egypt in order to obtain treatment elsewhere, the health care system in Gaza having collapsed. On 11 November, Avi Dichter, the Israeli Minister of Agriculture who is also a member of Israel's security cabinet, said in an interview: "We are now rolling out the Gaza Nakba … Gaza Nakba 2023. That's how it'll end". On 14 November, ultranationalist Finance Minister and Minister in the Defence Ministry Bezalel Smotrich reportedly wrote on Facebook: "I welcome the initiative of members of Knesset Ram Ben-Barak and Danny Danon on the voluntary immigration of Gaza Arabs [sic] to the countries of the world. This is the right humanitarian solution for the residents of Gaza and the entire region".
While exact numbers cannot be given, it has been estimated that between 5 and 13 November around 200,000 Gazans moved south, many reportedly on foot, amidst reports about "[o]vercrowding and limited access to shelter, food and water, in the south"; hundreds of thousands reportedly remained in the north, who "are struggling to secure the minimum amount of water and food for survival". On 16 November, telecommunications services reportedly broke down across Gaza due to lack of fuel. On the same day, the director of the Indonesian Hospital in Beit Lahia said that the hospital shut down all its functions, with patients in need of surgery reportedly left in the reception area.
The Executive Director of the WFP warned in a statement dated 16 November that "[w]ith winter fast approaching, unsafe and overcrowded shelters, and the lack of clean water, civilians are facing the immediate possibility of starvation" and urged the opening of a second crossing to let aid pass through, echoing similar remarks by UN Under-Secretary-General for Humanitarian Affairs and Emergency Relief Coordinator Martin Griffiths. The Israeli authorities had reportedly turned down a proposal to allow for the passage of aid through the Kerem Shalom crossing.
Developments on the Lebanese border
The Israeli-Lebanese border has become another 'area of operations', with rocket fire, missiles, and infiltration from southern Lebanon reported as well as Israeli shelling, raising fears of a wider regional conflagration, including the entry into the war of the Iran-sponsored Lebanese armed group Hezbollah, deemed to be amongst the best equipped and most powerful militias in the world. On 10 October, shells and missiles were reportedly launched from Syria, drawing responding fire by the Israeli military. On 12 October, Israel reportedly struck the airports in Damascus and Aleppo. On 13 October, it was reported that Iranian Foreign Minister Hossein Amir-Abdollahian met with Hezbollah Secretary-General Hassan Nasrallah in Beirut, with the former warning that the war could spill over to other parts of the region should Israel's attacks on Gaza continue. On the same day, Israeli shelling of southern Lebanon killed Issam Abdallah, a journalist from Reuters, and injured six others. An investigation by Reporters Without Borders (RSF) suggests that the journalists were hit by two strikes in close proximity and rapid succession, which "clearly indicate[s] precise targeting"; they were wearing press vests and helmets, and their vehicle was also marked with the inscription 'press' on the roof.
On 14 October, rockets were reportedly fired from Syrian territory, drawing Israeli artillery fire; the Israeli military again struck Aleppo airport. Clashes along the Israeli-Lebanese border intensified; Israel reportedly set up a 4 km 'buffer zone' along the border and prepared to evacuate residents. On 17 October, Hezbollah reportedly fired an anti-tank missile into northern Israel, leaving three injured; five members of the group were later killed by Israeli strikes. On 19 October, Hezbollah and Hamas fired dozens of rockets from Lebanon towards northern Israel; the Israeli military struck back. On 20 October, an Israeli soldier was killed by an anti-tank missile. Six Hezbollah members and one PIJ member were reportedly killed on 21 October. Israel's Minister of Economy and Industry, Nir Barkat, threatened that if Hezbollah joins the war, Israel would not just retaliate against the group but also attack Iran. On 22 October, Syrian State media reported that the Israeli military has again hit the airports in Aleppo and Damascus.
According to the International Organization for Migration (IOM), the clashes along the Israeli-Lebanese border have led to the displacement of almost 29,000 persons inside Lebanon. On 27 October, the US attacked targets in Syria that are allegedly tied to the Iranian Revolutionary Guard Corps (IRGC) and allied militias, in response to earlier attacks on US bases in Syria and Iraq. On 29 October, the Israeli military struck targets in Lebanon following earlier rocket fire. On 30 October, Israel again carried out strikes in Syria and Lebanon in response to rocket fire; on the same day, the Special Envoy of the UN Secretary-General for Syria, Geir Pedersen, said that the hostilities have already spilled over into Syria and warned of "a terrifying prospect of a potential wider escalation".
On 31 October, the Iranian-backed Yemeni group Ansar Allah (commonly known as the Houthis) reportedly claimed responsibility for barrages of missiles fired towards the Israeli port city of Eilat by the Red Sea, which were intercepted by the Israeli military. Amnesty International reported again that the Israeli military has used white phosphorus on several occasions in southern Lebanon. On 2 November, the situation along the Israeli-Lebanese border deteriorated, with some of the strongest strikes by Hezbollah on Israeli positions and Israeli retaliation in southern Lebanon reported since the start of the hostilities. On 3 November, Hezbollah's Secretary-General Nasrallah delivered the first public address since the outbreak of the hostilities. In a speech lasting over an hour, he said that Hezbollah "already entered the battle on Oct. 8"; while he warned that "all options are on the table", including a possible wider conflagration, he seemed to tie this to the further course of events in Gaza. Some analysts interpreted this as a sign of deterrence on the northern front for the time being. On 5 November, an Israeli strike in southern Lebanon hit a car, reportedly killing three children and their grandmother and injuring the mother, all civilians; Hezbollah retaliated with rocket fire on Kiryat Shmona.
On 8 November, Hezbollah's Deputy Secretary-General, Naim Qassem, seemingly warned in an interview with the BBC that a wider regional war remains a possibility if Israel continues or further escalates its bombardment of Gaza. On the same day, the US reportedly again struck targets in eastern Syria allegedly linked to the IRGC and allied militias. On 9 November, a school in the southern city of Eilat was reportedly struck by a drone; the Israeli military attacked targets in Syria in response. On 13 November, a group of journalists in southern Lebanon reportedly came under attack from the Israeli military; a photographer working for Al Jazeera was injured. According to reports, Ayatollah Ali Khamenei, the Supreme Leader of Iran, indicated to the Hamas leadership that Iran would not join the war in Gaza.
Increasing violence and oppression in the West Bank, including East Jerusalem
As hostilities rage in Gaza and Israel, confrontations have been taking place between Israeli forces and Palestinians living in the occupied West Bank, including annexed East Jerusalem. As of 16 November, Israeli forces have killed 186 Palestinians, including 51 children; they injured 2,661 others, amongst them at least 282 children, more than half during demonstrations. In the same time period, Israeli settlers killed eight Palestinians, including one child, and injured 74 others. Four Israelis have been killed by Palestinians. The week of 9 to 15 October marked "the deadliest … for West Bank Palestinians since OCHA began recording casualties in 2005" (reported on 16 October). Furthermore, as of 16 November, the "number of Palestinians killed in the West Bank since 7 October accounts for 43 per cent of all Palestinian fatalities in the West Bank in 2023".
Hamas called for a 'day of rage' on 13 October; overnight and on this day alone, Israeli forces killed 13 Palestinians, amongst them four children and one woman, across the West Bank, including East Jerusalem, most during protests. On 19 and 20 October, Israeli forces conducted an operation in Nur Shams refugee camp near Tulkarm in the northwestern West Bank. According to OCHA, 13 Palestinians, amongst them six children, were killed and 62 injured; one member of the Israeli forces was killed, and nine others were injured. The Israeli military reportedly struck the camp from the air; UNRWA documented extensive damage to homes and infrastructure. On 22 October, the Israeli military carried out an airstrike in Jenin refugee camp in the northern West Bank, citing an "imminent terror attack" being planned from a compound underneath Al-Ansar Mosque allegedly belonging to Hamas and PIJ operatives, which was hit; two people were reportedly killed. The strike marked "the first Israeli use of a warplane in the West Bank since the second intifada in the early 2000s".
On 25 October, it was reported that Israeli forces conducted another raid in Jenin refugee camp and carried out a drone strike, killing four Palestinians, including two children aged 15 and 17. On 9 November, OCHA reported that 13 Palestinians, amongst them one child, were killed by Israeli forces in Jenin refugee camp; during the raid, there were "armed clashes with Palestinians, and airstrikes, resulting in extensive infrastructure damage". During an Israeli military raid in Tulkarm, reported on 14 November, seven Palestinians were killed; OCHA cited reports by medical sources that "during the operation, Israeli forces impeded the work of paramedics". On 16 November, at a checkpoint near Bethlehem, three Palestinians reportedly opened fire at Israeli soldiers killing one and injuring three; they were then shot and killed by Israeli forces. On 17 November, reports emerged that three Palestinians were killed in an Israeli drone strike in Jenin.
There have been reports about a sharp increase in applications for gun licenses amongst Israeli citizens, ultranationalist National Security Minister Itamar Ben-Gvir having facilitated and expedited the process for obtaining licensing and gun ownership; furthermore, hundreds of armed civilian security squads have reportedly been set up to patrol the streets alongside the police.
Arrests, detention, and other restrictive measures
There have been increasing reports of Israeli police detaining East Jerusalemites and Palestinian citizens of Israel over social media posts and students and employees being suspended or dismissed. Other concerning measures such as a de facto ban on demonstrations against the war or in solidarity with Palestinians in Gaza, and threats directed specifically against Palestinian lawyers and Knesset members have been reported as well; on 15 November, parliamentarian Aida Touma-Sliman of the Hadash party published a video on X (formerly Twitter) in which she stated that she has been suspended from participation in the Knesset plenary and committee sessions by the Knesset's Ethics Committee for two months, reportedly over her stance regarding the war.
On 8 November, the Knesset amended the Counter-Terrorism Law of 2016, which contains numerous broad and open-ended provisions that have been criticized since the law's inception seven years ago. The amendment criminalizes "systematic and continuous consumption of publications of a terrorist organization under circumstances that indicate identification with the terrorist organization" and specifically lists Hamas and the so-called 'Islamic State' for this purpose.
Also on 8 November, Amnesty International reported a sharp uptick in the number of Palestinians arrested by Israel and detailed instances of detainees being subjected to torture and severe ill-treatment, which is a longstanding issue of concern; according to the Palestinian Prisoners' Club, over 2,200 Palestinians have been arrested since 7 October, and as of 1 November the number of administrative detainees – i.e., those held without charge or trial – stands at 2,070, according to human rights organization HaMoked. Several Palestinian detainees have reportedly died in Israeli custody, amidst reports of "mass beatings" of prisoners. On 9 November, Mohammad Barakeh, the Chairman of the Higher Arab Monitoring Committee, was arrested reportedly over plans to hold a demonstration against the Gaza war in Nazareth. Three former members of the Knesset and the Director-General of the Balad party – like Barakeh, all Palestinian citizens of Israel – were detained as well, reportedly when they gathered at the site of the planned protest.
There are also serious concerns over the physical safety and well-being of Gazans who used to work in Israel, around 4,000 of whom (figure quoted by the Israeli media) were reportedly detained by the Israeli authorities after their work permits were revoked in the wake of the 7 October attacks. Testimonies indicate that persons in detention have been subjected to ill-treatment; some were reportedly held incommunicado and had their belongings confiscated. On 3 November, following an Israeli cabinet decision, thousands of Gazans were reportedly sent back to the Gaza Strip via the Kerem Shalom crossing; others reportedly remain detained by Israel. On 6 November, it was reported that two Gazan workers detained at the Ofer and Anatot bases, respectively, died in custody; their bodies are reportedly still being held by the Israeli military, which has not opened an investigation into their deaths. Middle East Eye has reported that a third worker died on the way back to Gaza.
Access and movement restrictions for residents of the West Bank and East Jerusalem, including "closures, checkpoints and roadblocks", have been reported as well, especially around the so-called 'Seam Zone' (i.e., the area east of the 'Green Line' and west of the 'Separation Barrier') and in areas close to Israeli settlements. Since the start of hostilities, dozens of additional checkpoints and road blocks have reportedly been set up, and crossing from the West Bank into Jerusalem has been rendered much more difficult. According to B'Tselem, hundreds of Palestinian families in the H2 (Israeli-controlled) area of Hebron have been subjected to a curfew since 7 October, and only since 21 October have they been allowed to "leave home on Sundays, Tuesdays and Thursdays, for an hour in the morning and an hour in the evening" while having to cross military checkpoints – an intrusive and time-consuming process that risks leaving residents stranded outside their homes. As a result, public and commercial life has reportedly all but grinded to a halt.
Settler violence and displacement
There have also been reports about continued attacks by violent settlers, with 248 attacks in total documented since 7 October, out of which 30 resulted in casualties, 182 in property damage, and 36 in both. In one instance, five Palestinians (amongst them one child) were killed by settlers in Qusra, near Nablus; settlers also threatened the entire village. On 12 October, Israeli soldiers and settlers reportedly detained three Palestinians over the course of several hours, handcuffed them, stripped them to their underwear, subjected them to severe beatings, and photographed them, amongst other ill-treatment. They also detained, handcuffed, and threatened Israeli activists, who were let go after three hours; some were also beaten. On 13 October, it was reported that a settler shot a Palestinian at point blank near Hebron, with an Israeli soldier standing by.
OCHA estimates that settler violence, threats thereof, and access restrictions have led to the displacement of 1,014 Palestinians, amongst them 388 children, from 15 herding communities. 48 Palestinians, amongst them 24 children, have been displaced due to punitive home demolitions; 135 others, including 66 children, have been displaced because of demolitions carried out on the grounds of an alleged lack of permits. On 28 October, a settler reportedly shot and killed a Palestinian who had been harvesting olives. On 29 October, the French Ministry of Foreign Affairs issued a statement condemning violent attacks by settlers and calling upon the Israeli authorities to protect the affected Palestinian communities. On the same date, a group of civil society organizations registered in Israel published a joint letter urging "clear, strong and direct intervention by the international community" in light of the settler violence, which they argue the Israeli government has failed to rein in and supports. US President Biden has also condemned the surge in settler violence in the West Bank.
On 1 November, it was reported that Zvi Sukkot, an ultranationalist Knesset member from the Religious Zionism party who resides in the settlement of Yitzhar near Nablus, has been slated to become chairman of a subcommittee on the West Bank, having been appointed to the Foreign Affairs and Defence Committee of the Knesset on 30 October.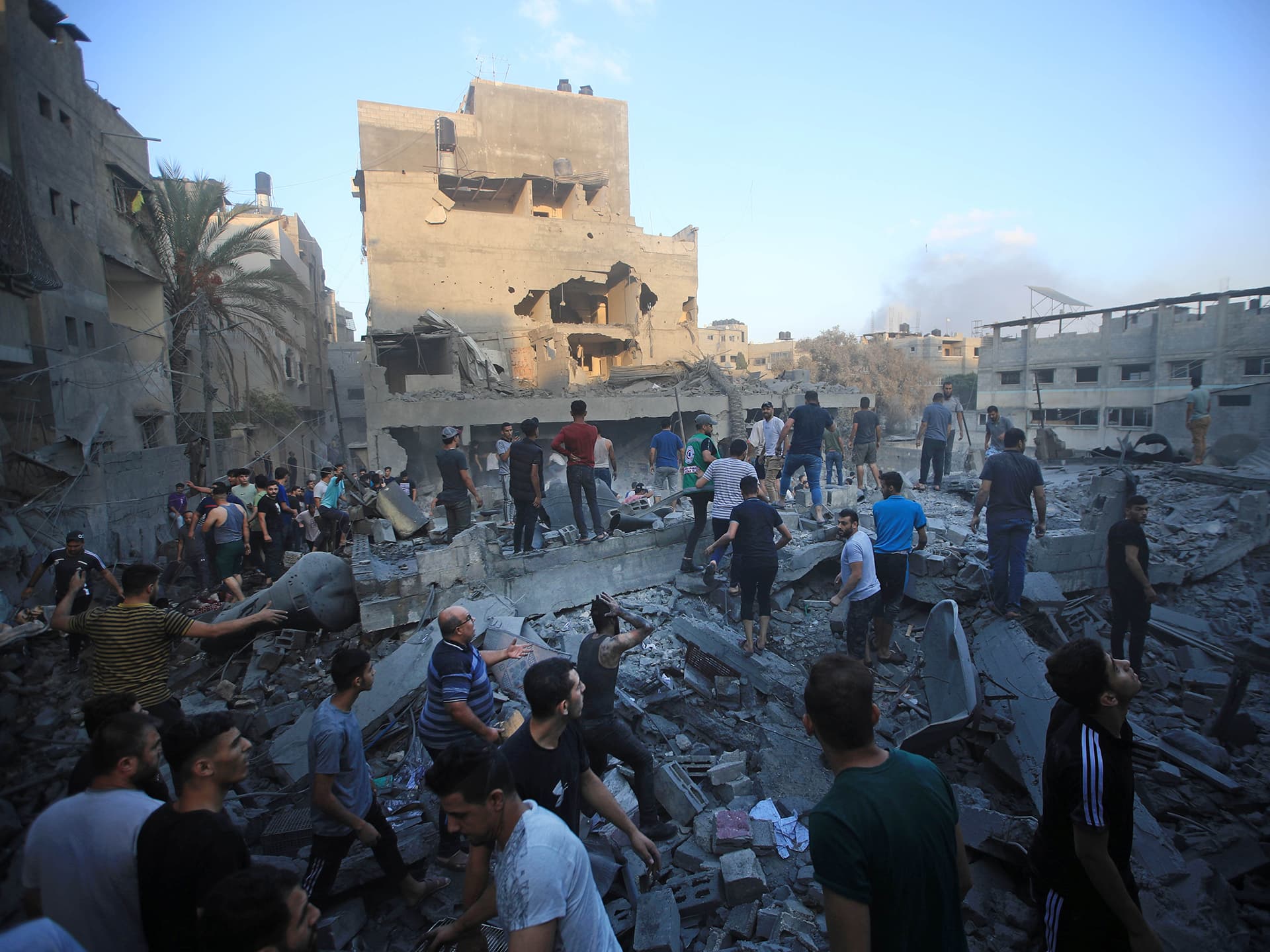 International reactions
A number of Israel's Western allies declared their solidarity in the wake of the Hamas attacks. On 9 October, US President Biden, UK Prime Minister Sunak, French President Macron, German Chancellor Scholz, and Italian Prime Minister Meloni released a joint statement indicating their "steadfast and united support to the State of Israel, and … unequivocal condemnation of Hamas and its appalling acts of terrorism". The US moved "the USS Gerald R Ford aircraft carrier, a missile cruiser and four missile destroyers" as well as fighter jets to the Eastern Mediterranean and started providing Israel with military equipment and ammunition. On 14 October, the US sent another aircraft carrier to the Middle East. Germany and the UK followed suit with shows of military assistance.
The EU announced that it would review development aid to Palestinian authorities, revising an earlier announcement that such payments had been suspended – a step taken at the national level by Germany and Austria. A statement released by the EU on 15 October emphasizes, amongst other points, "Israel's right to defend itself in line with humanitarian and international law [sic]" and "the importance to ensure the protection of all civilians at all times in line with International Humanitarian Law". During a meeting with Prime Minister Netanyahu in Israel, Sunak affirmed that the UK wants Israel "to win". On 19 October, the European Parliament adopted a resolution which "[c]alls for a humanitarian pause, de-escalation and full respect of international humanitarian law", amongst a long list of other issues. On the same day, missiles reportedly fired from Yemen were intercepted by a US warship, the US concern being that they were potentially targeted towards Israel. On 21 October, the Pentagon announced that it would deploy further air defence systems to the region.
On 31 October, Norwegian Foreign Minister Espen Barth Eide said in an interview with Reuters that in Norway's assessment "there have been cases where … proportionality and … distinction have not been fully respected" in Israel's campaign, referring to two of the cardinal principles of international humanitarian law (IHL) on the conduct of hostilities. On the same day, NATO Secretary-General Jens Stoltenberg underlined the importance of "Israel's response [to the Hamas attacks] tak[ing] place within international law", and in particular that "civilian lives are protected, and that humanitarian aid reaches Gaza". In light of the ever-increasing number of civilian casualties in Gaza, several countries recalled their ambassadors to Israel, including Turkey, Jordan, Bahrain, Honduras, Chile, Colombia, and South Africa; Bolivia severed diplomatic relations with Israel.
At the beginning of November, US President Biden said that he is in favour of a "humanitarian 'pause'". Gabriel Boric, the President of Chile, asserted that "without doubt … the response [of Israel in Gaza] has been disproportionate, and … international humanitarian law is being violated". Boric proceeded to categorically condemn the attacks by Hamas and armed groups from Gaza and called for the unconditional release of the hostages, stressing that in his view one does not have to choose between one and the other; rather, he proclaimed: "We choose humanity". On 5 November, French Foreign Minister Catherine Colonna urged the belligerents to implement an "immediate humanitarian truce". The US reportedly deployed a nuclear submarine to the region.
In a speech on 8 November, on the occasion of a G7 meeting in Tokyo, US Secretary of State Blinken reiterated the G7 ministers' "staunch support for Israel's right and obligation to defend itself and [aspiration] to ensure the attacks of October 7th can never happen again, in accordance with international humanitarian law". He also pointed out that he has had "conversations with Israeli leaders on [humanitarian] pauses, and on concrete steps to minimize harm to Palestinian civilians in Gaza and to stop extremist violence in the West Bank". On the same day, Ione Belarra, the Spanish Minister for Social Rights, suggested in an interview that countries should act in response to what she deemed a "planned genocide" on the part of the Israeli authorities, for example by means of severing diplomatic relations with Israel and imposing sanctions on Prime Minister Netanyahu, amongst other measures. Belgium's Deputy Prime Minister, Petra De Sutter, also wrote on X (formerly Twitter) that "[i]t's time for sanctions against Israel".
In an interview with the BBC, French President Emmanuel Macron reiterated his call for a ceasefire. He further stated that "de facto, there's babies, there's ladies, there's old people [who] are bombed and killed. There is no reason for that and no legitimacy. So, we do urge Israel to stop". On 12 November, the EU released a statement calling for "immediate pauses in hostilities and the establishment of humanitarian corridors", decrying "the use of hospitals and civilians as human shields by Hamas", and stressing that "hospitals, medical supplies and civilians inside hospitals must be protected" while calling upon Israel "to exercise maximum restraint to ensure the protection of civilians". On 14 November, Belize suspended diplomatic relations with Israel.
The UN system and international organizations
On 9 October, UN Secretary-General Antonio Guterres remarked to the press that "[t]his most recent violence does not come in a vacuum. The reality is that it grows out of a long-standing conflict, with a 56-year long occupation and no political end in sight". On 24 October – 'United Nations Day', marking 78 years since the UN Charter entered into force in 1945 – UN Secretary-General Guterres delivered a speech to the Security Council, noting that he has "condemned unequivocally the horrifying and unprecedented 7 October acts of terror by Hamas in Israel" and that "[n]othing can justify the deliberate killing, injuring and kidnapping of civilians – or the launching of rockets against civilian targets". He observed that "the attacks by Hamas did not happen in a vacuum" – the "Palestinian people have been subjected to 56 years of suffocating occupation" – while clarifying that "the grievances of the Palestinian people cannot justify the appalling attacks by Hamas. And those appalling attacks cannot justify the collective punishment of the Palestinian people". The speech incensed Israeli officials, with Israel's Permanent Representative to the UN, Gilad Erdan, calling on Guterres to resign and threatening to refuse visas to UN staff going forward, vowing to "teach them a lesson".
On 25 October, it was reported that the US would send two Iron Dome missile defence systems to Israel. During a meeting with Australian Prime Minister Anthony Albanese, US President Biden said that "there's no going back to the status quo as it stood on October the 6th" and that "when this crisis is over, there has to be a vision of what comes next", which should be "a two-state solution". The Security Council – which is the UN body tasked with "maintain[ing] or restor[ing] international peace and security", being endowed with enforcement powers under Chapter VII of the UN Charter – failed twice to adopt a resolution on the hostilities; on 27 October, the UN General Assembly (which, unlike the Security Council, is a deliberative body) passed a resolution with a majority of 121 out of 193 member States voting in favour, which calls for "an immediate, durable and sustained humanitarian truce leading to a cessation of hostilities", full compliance with international law by all parties, "the immediate and unconditional release of all civilians who are being illegally held captive", and "the immediate, continuous, sufficient and unhindered provision of essential goods and services to civilians throughout the Gaza Strip", amongst other points. An amendment introduced by the Canadian delegation, which would have "[u]nequivocally reject[ed] and condemn[ed] the terrorist attacks by Hamas that took place in Israel starting on 7 October 2023 and the taking of hostages", and called for their "immediate and unconditional release", was not adopted.
The Prosecutor of the International Criminal Court (ICC), Karim Khan, visited the Rafah crossing between Egypt and Gaza, reflecting sombrely on the fact that "the international architecture built on the rubble of the Second World War … was meant to create institutions that would ensure never again would we see abominations where people could be targeted because of their race, their religion, their culture, where they come from, or what passport they hold". He emphasized that "there should not be any impediment to humanitarian relief supplies going to children, to women and men, civilians. They are innocent, [and] they have rights under international humanitarian law", the denial of which may give rise to individual criminal responsibility under the Rome Statute.
Also speaking from the Rafah crossing, the UN High Commissioner for Human Rights, Volker Türk, said on 8 November that he was standing at "the gateway to a hellish nightmare", referring to the catastrophic situation in Gaza. On 10 November, an OCHA spokesperson observed that "[i]f there is a hell on earth today, its name is northern Gaza". On the same day, the ICRC issued a statement calling for the protection of hospitals and health workers against the backdrop of a "healthcare system in Gaza [that] has reached a point of no return risking the lives of thousands of wounded, sick and displaced people". On 15 November, the UN Security Council adopted a resolution calling for "urgent extended humanitarian pauses", humanitarian corridors, and the release of the hostages, amongst other points. On 16 November, the Inter-Agency Standing Committee released another statement opposing the (unilateral) establishment of 'safe zones' unless they enjoy the support of all parties and "fundamental conditions are in place to ensure safety and other essential needs are met and a mechanism is in place to supervise … implementation".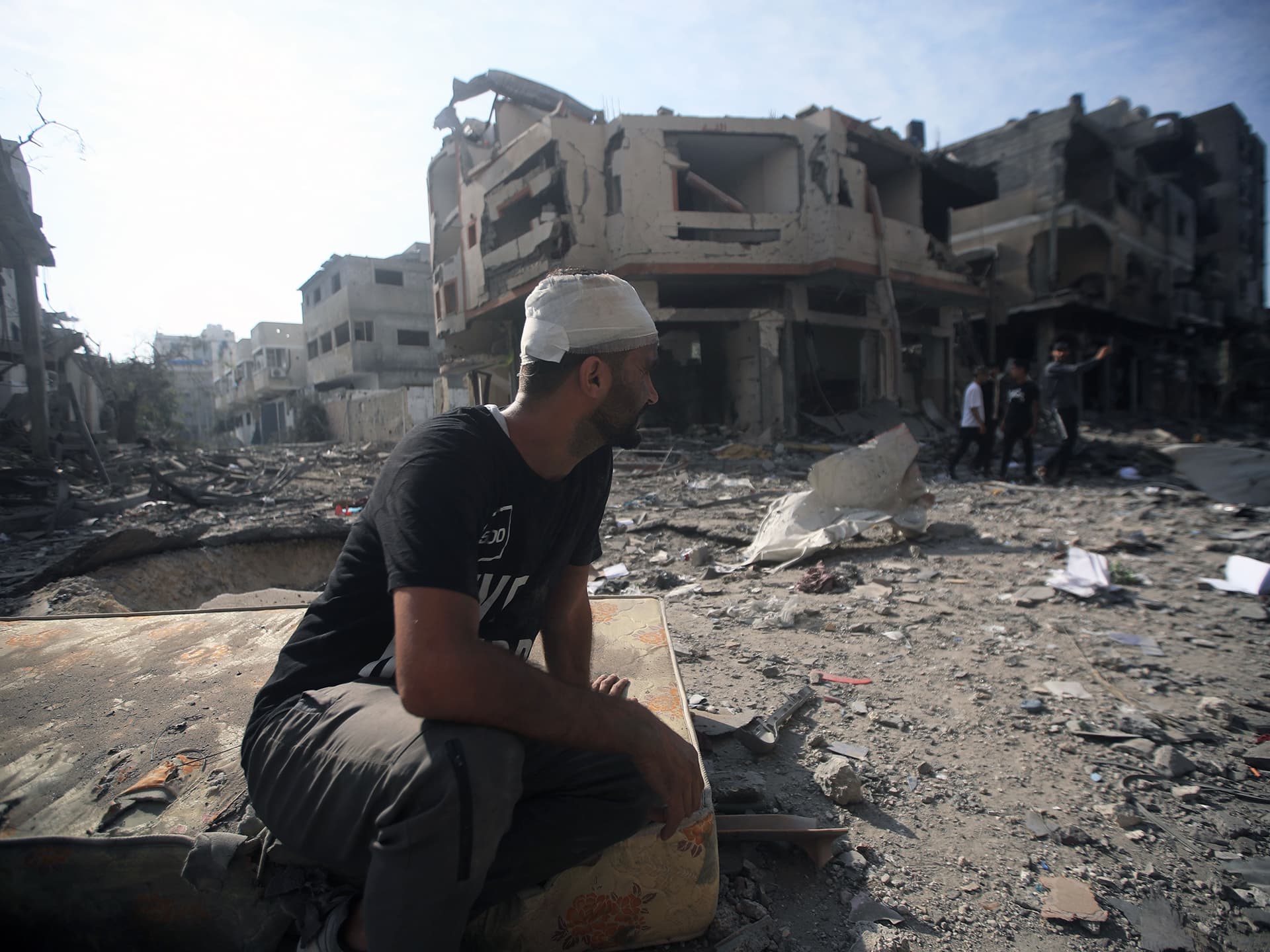 HEADER Photo: Mohammed Zaanoun/ActiveStills Photo Collective, Gaza (Al-Rimal, Gaza City), 8 October 2023. All Rights Reserved.