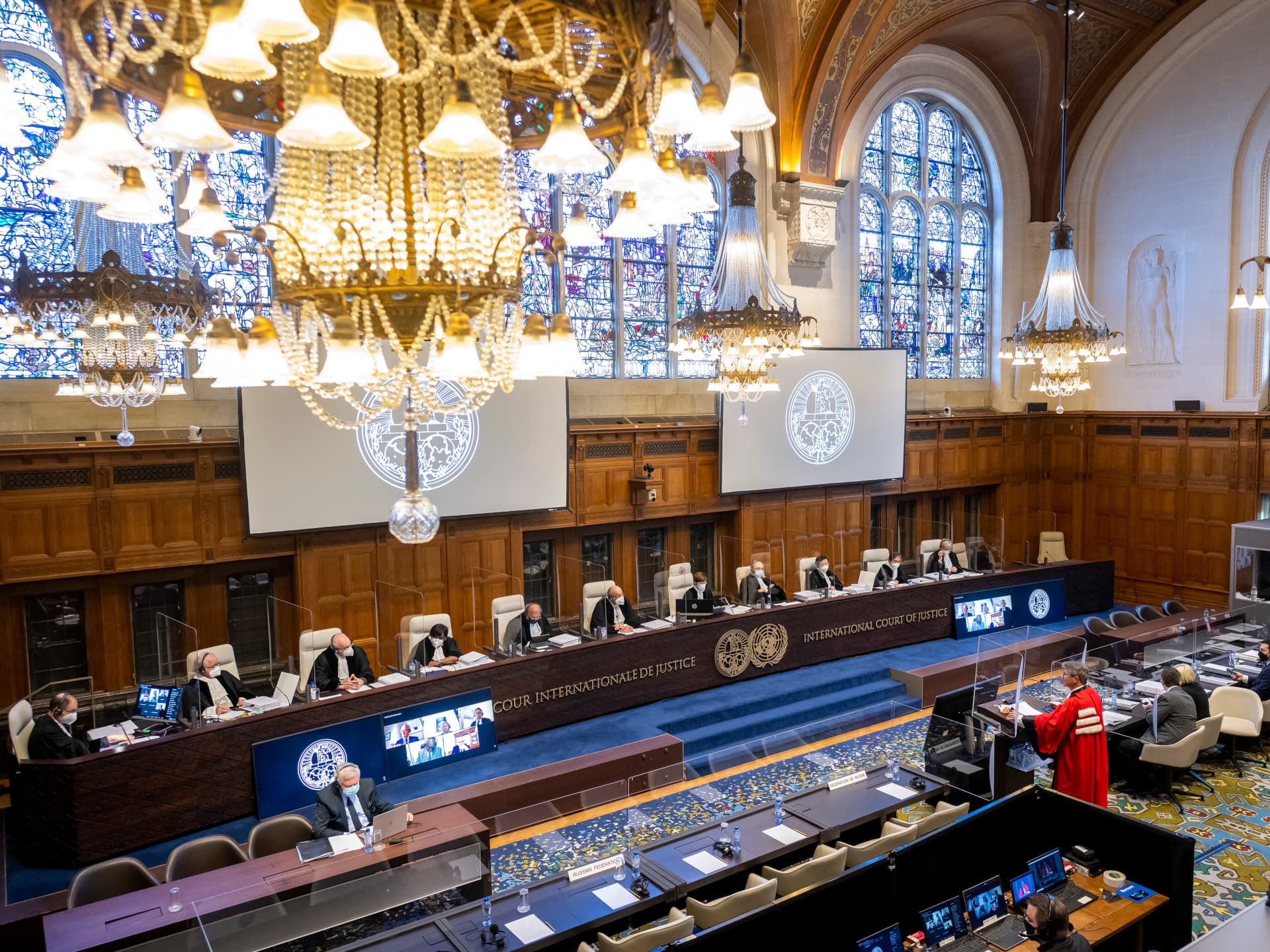 Global: News
ICJ hears Ukraine's application against Russia
8 March 2022
The International Court of Justice heard Ukraine's oral arguments in support of its request for provisional measures in the conflict with Russia. A summary of the proceedings.
On 26 February, two days after the latest invasion of Ukraine by Russia, Ukraine initiated proceedings before the International Court of Justice (ICJ) under the Genocide Convention (Ukraine's Application). In the first instance, Ukraine is seeking provisional measures against Russia, arguing that Russia has falsely accused Ukraine of genocide in the regions of Luhansk and Donetsk. This matters because Putin used the accusation of genocide to justify, in part at least, the invasion of Ukraine in what he calls a 'special military operation'. Therefore Ukraine is asking the ICJ to confirm that it has not violated the Genocide Convention and therefore the actions of Russia on the basis of this false accusation are unlawful. Although applications before the ICJ usually take years to be heard, Ukraine is using the Court's fast-track procedure where a party can ask for an interim order to prevent a situation from worsening. Oral arguments were heard by the ICJ on 7 March, below is a summary of what was said.
Ukraine argued that the Court has jurisdiction to hear its application because 'the Russian Federation has falsely claimed that acts of genocide have occurred' in the Luhansk and Donetsk regions of Ukraine and has launched a military attack for the claimed purpose of 'preventing and punishing purported acts of genocide' (Ukraine's Application, para. 2). Ukraine therefore submitted that there is a dispute relating to the interpretation, application and fulfilment of the Genocide Convention, to which both Ukraine and Russia are party.
Request for provisional measures in the Ukraine conflict
Jean-Marc Thouvenin, for Ukraine, summarised the dispute as follows during the hearing: 'Russia accuses Ukraine to engage in acts of genocide within the meaning of Art. II of the Convention. Ukraine retorts that these claims are absurd, and that they are window-dressing for an armed aggression.' Ukraine requested the Court to order a number of provisional measures, which include the immediate suspension of Russian military operations in Ukraine. (Ukraine's Request for the Indication of Provisional Measures, para. 20).
Harold Koh, for Ukraine, observed during the hearing that 'in less than two weeks, this case has become much bigger than just Ukraine v. Russia. It has become a test of who will prevail: Russia or the post-war international legal order.'
Russia chose not to participate in the proceedings. As such the Court closed the hearing a day earlier than planned and is now deliberating. The Court said it would deliver its decision, which is legally binding on parties to the dispute, 'as soon as possible'. The full case information is available here, and the recording of the public hearing here.