Bangladesh
Karate creates a new role
It's sometimes said that 1+1=3. The idea is that if you combine two things, they become greater than the sum of their parts. This is how it seems to work with karate + knowledge in Bangladesh.
"I now introduce myself in my community as a karate trainer. I'm different from other girls," says 23-year-old Gaetree Roy.
The change that karate has meant for Gaetree is dramatic. She became an orphan in her early teens. When her older sister got married, Gaetree became solely responsible for two younger siblings.
Teaches six days a week
"Earlier, I was always scared, anxious and had poor self-esteem. But in 2012 I started to do karate. Thanks to karate I became strong and was able to save and take care of my family," she says.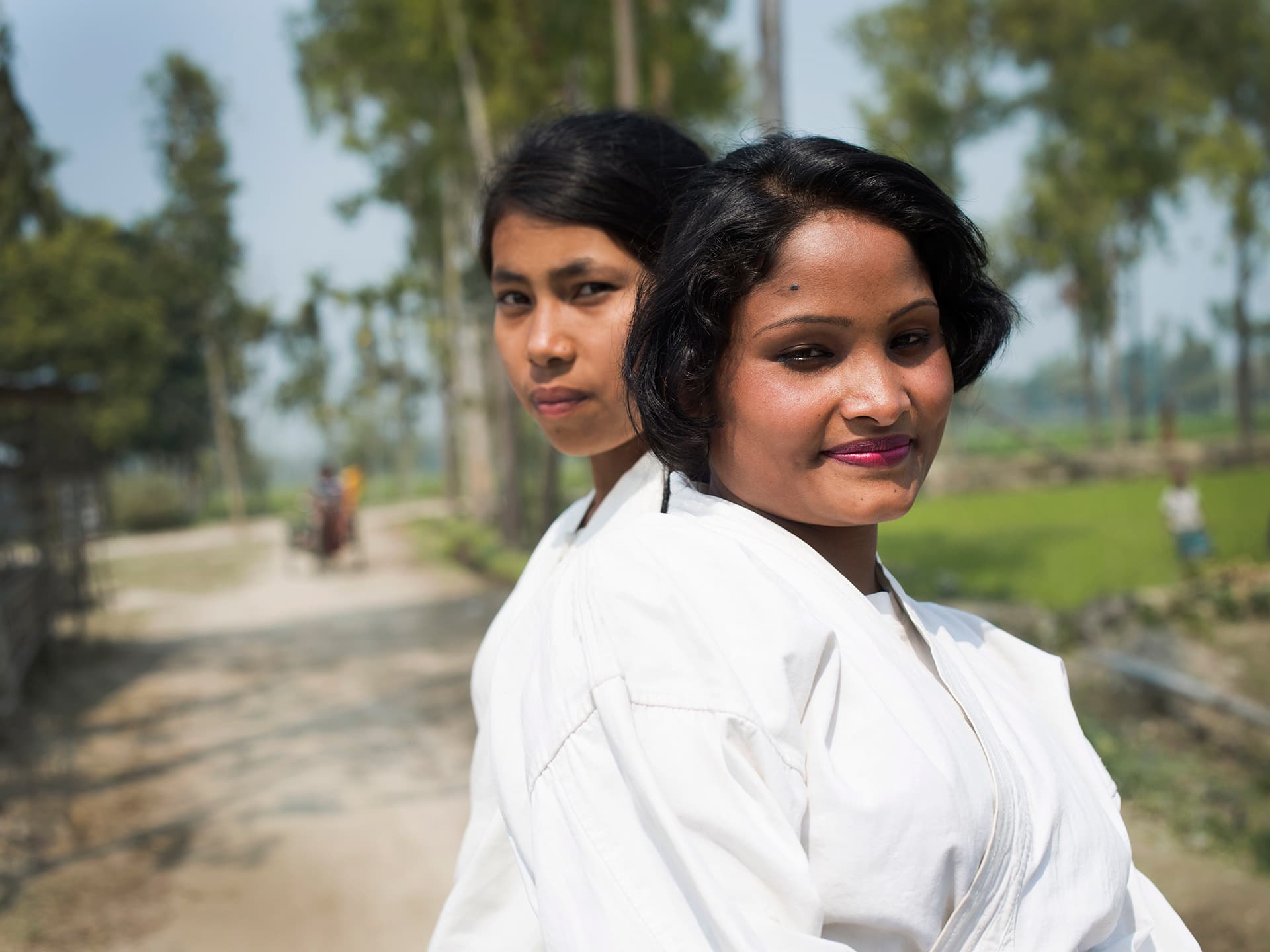 Karate gave her physical and mental strength, and her work as a trainer translated into income that now enables Gaetree to make a living for her and her siblings.
Six days a week, Gaetree teaches at a school in Kokoi Boro Gasha, northern Bangladesh. Diakonia's partner organization USS, the organization that trained Gaetree, is in this part of the country. There, society is traditional and patriarchal. It's a common perception that a woman's place is in the home and that women should not be seen in the streets or in public life.
Sadly child marriage is common – one in five girls is married off by the time she is 15. But society is changing; and to drive the change, karate combined with awareness is one of our strategies for success, according to the head of Diakonia in Bangladesh, Khodeja Sultana.
"Makes us bold and independent"
If a girl walks alone on the street, she's often insulted and harassed. But not the karate girls. They're respected in the community. I talk to Sima, one of Gaetree's students who has been doing karate for just over a month.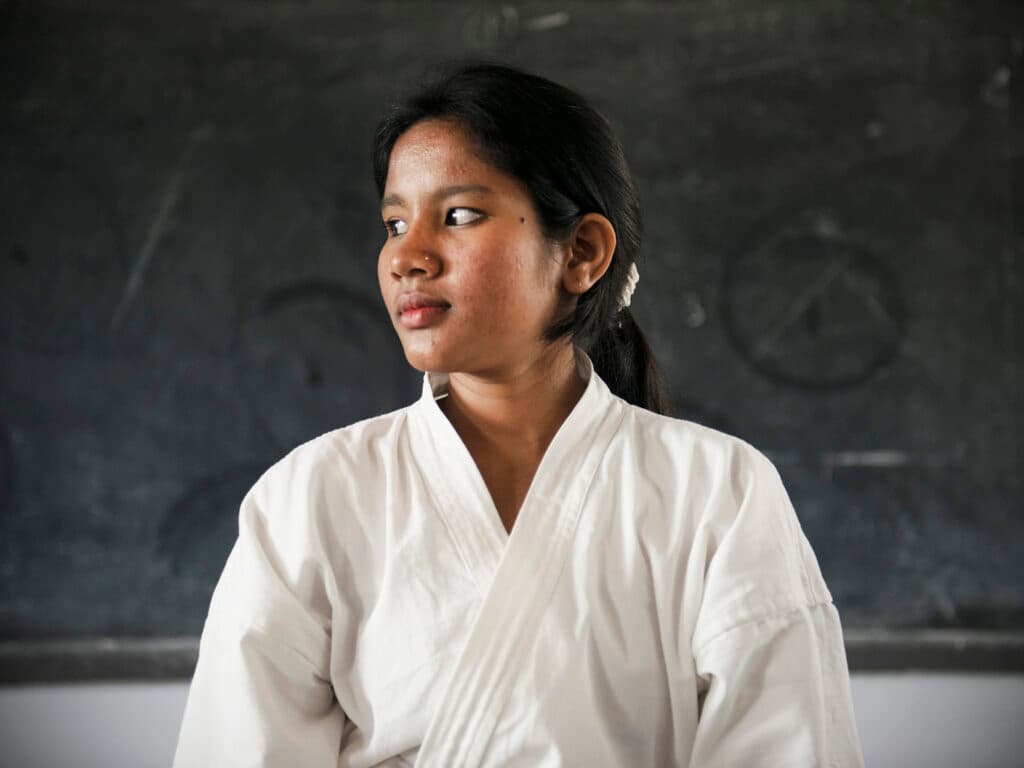 "Now that I'm doing karate, I have the courage to talk to everyone. If a boy is disturbing me, I tell him so. Girls who don't do karate are scared, but not me. The training makes us bold and independent. We can defend ourselves and others."
Sima Roy
In addition to the training, Diakonia's partner organization USS also organizes a student council at the school. There, the students discuss everything from leadership and health issues to child marriage and violence against women.
If a student has difficulties, the student council can help. At the school in Kokoi Boro Gasha, the students have together stopped five child marriages over recent years.
The wedding was canceled
They have identified 21 negative effects of child marriage, everything from a greater risk of maternal and child mortality to financial problems. By talking about these effects, they have succeeded in getting families who want to marry off their children to change their minds.
One of the girls whose child marriage was prevented is Sima in the karate group.
"I cried and told my mother and my aunt about the 21 negative effects that I could be affected by if they married me off. Finally I convinced them to cancel the wedding and allow me to continue in school."
Karate is much more than just training. The physical control provides the confidence necessary to stand up against injustice. And knowledge from the student council provides the moral compass necessary to identify it. One plus one equals three.
Fighting for their rights
Gaetree is a role model for her students. She has a clear vision of her dream society; in it, there are no differences between men and women.
"Everything that men can do, women can do as well. There should also be no differences in salary – men and women should receive the same salary for the same work."

"I wish for my students to grow up and do good in society," Gaetree continues. "It's my hope that they'll work to stop child marriage, that they'll defend others who are affected, that they'll help children complete their education. I want to see 'my' girls do good for other people."
It seems as if Gaetree has succeeded in her aim. The karate girls are already fighting for their rights today.
Diakonia in Asia
In Asia, Diakonia cooperates with partner organizations in Bangladesh, Cambodia, Sri Lanka and Thailand. The work is co-ordinated from our regional office in Chiang Mai, Thailand.